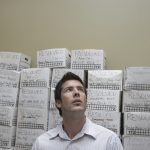 A cluttered workspace can be a huge distraction to running your business. If your workspace is overrun with excess inventory and supplies or you're drowning in piles of paperwork, consider renting a self storage unit as a cost effective and efficient solution to your clutter conundrum. Whether you work from a retail space, commercial space or a home-based office, we encourage business owners to make use of self storage for both long-term and short-term solutions for:
Relocating, remodeling or redecorating your business
Storing important business documents
Storing excess inventory and supplies
Storing sensitive equipment or supplies which require climate control
At Bargain Storage, we like to think of your storage unit functioning like an extra office space. Take advantage of the following tips to get the most of your self-storage investment:
Tip #1: Create an Inventory List
Before choosing what size unit you'll need, make a list of all of the items you'll be storing. Based on the list, you can determine the amount of space you will need. With proper packing and organization you can fit a lot more in a self-storage unit than may appear. Our friendly self-storage managers are also at your disposal to help you pick the right size unit, without selling you more space than you need.
Tip #2: Consider Fire-Proof Storage
Not all storage units are created equal – especially when it comes to fire safety.  Most of our self-storage facilities are all-concrete and/or metal.  This all design provides added protection for your personal valuables and business documents while in.
Tip #3: Pack Smart – Store Smart

Organizing you unit in the beginning with easy access in mind will help you later on. Put pen to paper and create a floor plan for your personal storage unit. Tape a copy of your map on the wall of your self-storage unit for easy reference to all of your belongings. Store items you'll need to access more frequently up-front. Stack your boxes along the wall from floor to ceiling with the heaviest boxes on the bottom to make a sturdy base. Create a clear path down the center of your unit, so you can easily access items stored in the back of your unit when needed.
Our friendly Bargain Storage managers are waiting to answer all of your business storage questions. Let us help identify the best way to help you focus on what matters most – running your business. Give us a call today!