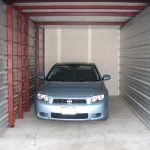 When putting your home on the market to sell, a bit of staging and decluttering can be that extra aide to the fast sale of the house. Any realtor can tell you that having too much stuff can really work against you with buyers. It will make rooms appear smaller and many buyers will get distracted by your clutter and not see the house as a place they can live in.
In an effort to clear the spaces in the home, many sellers will rent storage units and move the extra stuff to a space outside of the home. What they frequently neglect, however, is the garage and driveway space. Many never consider how much space their extra vehicles, boats, RV's and toys take up.
Some of the reasons to consider storing your vehicles during the sale process:
Buyers want as much space as they can get in their price point. Having your house, driveway and garage cleared of any excess helps buyers imagine how much space they have to work with in the house. Cars and RV's take up large amounts of visual space and give the impression of less room then there actually is when left behind.
Alternatively, if you just move them into the street then it blocks the front of your home from potential buyers and gives the impression that your neighborhood has a street parking problem.
Lastly, if your cars are in less than perfect shape or are a work in progress, it gives a terrible first impression of you home making it appear less valuable and in need of work before the buyer has even stepped foot inside the home.
If you're like me, you care about your vehicles, classic cars, RV's and trailers. You want to make sure if they aren't going to be at your house that they are stored properly and securely. Depending on what facility you choose nearby, there are a few options to consider.
Climate controlled drive-in storage units are the most expensive and yet highest caliber of storage for your auto, RV or toy hauler. I would consider this option for a restore classic car or vintage trailer that you want to protect from the elements. The price is considerably higher but for an investment piece of equipment, it's worth considering.
Non-climate controlled drive in storage spaces would be the next tier down as far as price. Depending on the time of year you are storing the equipment, and the climate of where the facility is located in, this can also be a very nice option. Similar to a garage, it will protect your vehicle from the elements and, just like the option above, gives you extra space to place other items in the garage-like storage space.
The next price point down would be a parking garage space. While not as private as your own drive-in storage unit, it still protects from the elements while providing security.
Covered outdoor parking spaces. I like this option if you are only parking a car or RV for a short time and it just needs to be protected from excessive sun and/or rain. Similar to a carport, this option keeps your equipment covered and protected while not costing as much as the other options mentioned above.
Last but not least there are outdoor parking spaces that you can use to store your vehicles. Consider these options like a large outdoor parking lot where you rent a space to park. This is by far the most cost effective option. Things to consider with this type of storage are length of stay, local climate and what type of security is in place around the lot.
While everyone has heard about staging your home and decluttering it before putting it on the market, not many people have thought about the vehicles, autos, RV's and similar equipment that can clog the visual space of a driveway or a garage in just the same manner. If you have extra vehicles that are in the way, consider renting a space to put them so buyers see your home as their new home and not a vacant car lot.
Photo and article by Steve Reed